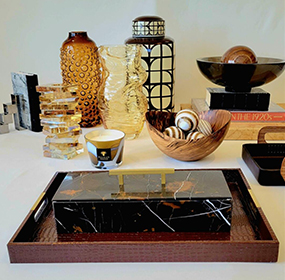 1) 15% Discount off current retail prices on products in Heritage Home and Outdoor Pottery.
2) Items purchased with the discount can be returned within 48 hours but must be in original condition and packaging. After 48 hours they are non-refundable/non-returnable.
3) Products paid for at full price can be returned within 7 days for refund.
After 7 days can be returned for store credit.
4) Special orders that can be accommodated are to be paid in full at the time of the order and are not returnable.
5) Not valid on NEST, Baobab, Simon Pearce. Additional brand restrictions may apply.
6) Heritage Home discount is non-transferrable and company representative must be present at time of purchase and/or return.
7) Discount does not apply to sale or clearance items.
8) Sales tax applied to all purchases.
9) No minimum purchase required.
10) This program is a privilege we are happy to provide, but please note the program is not meant to provide product for photoshoots or staging.
11) Program privileges may be revoked without notice.
12) Please be respectful, and thank you for your business!
By digitally signing here you confirm you have read the terms and conditions of the Heritage Trade Program.