Easy, Elegant Roses
Roses, roses, and more roses…. Imagine sprays of beautiful shrub roses blooming in your garden, landscape, or planters this summer with little effort!
Shrub roses are better than ever, thanks to the brilliant work of rose hybridizers in recent years. And what makes the Knock-Out®, Drift®, and Flower Carpet® roses better? For starters, you'll enjoy longer seasons of bloom, with many blooming from late May through frost!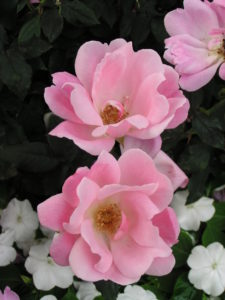 Thankfully, not all roses require a lot of care and attention. Knock-Out®, Drift®, and Flower Carpet® roses are considered by many to be low maintenance roses. Imagine no more diseased leaves to detract from the beauty of your garden. And there's no need to 'deadhead' old blooms, unless you really want to. Plus, you'll enjoy their beautiful blossoms for months outdoors or indoors as cut flowers.
Drift® roses provide beautiful sprays of long season color in the garden. This low-growing, groundcover rose checks all the boxes – lots of seasonal color, an array of flower colors to choose from, easy-to-grow, and little maintenance required. This self-cleaning rose does all the work, but if you must, deadheading is an option.
Flower Carpet® roses are prized for their vigorous, spreading habit and continual wash of flowers. Useful in borders and planters, they are available in a wide array of colors, heights, and scents. These improved shrub roses, completely hardy on Long Island, are an absolute 'must' for all gardens. A big plus – no need for constant spraying and deadheading.
Knock Out® Roses, true to their name for their beautiful flowers, add months of carefree color and enjoyment in the garden – in beds and planters! Worth repeating and a timesaving benefit – there's no need to deadhead old, faded flowers.
A few suggestions to keep these low-maintenance roses happy in the garden:
-provide at least 6 hours of sunlight each day
-use a soaker hose to water
-fertilize according to label directions
Is this the year you make these beautiful shrub roses part of your landscape? Go ahead, you really can have it all when it comes to these low maintenance shrub roses with their carefree habit and continual bloom.