Your destination for all things Holiday.
Bring the sights and scents of the season to your home! Visit our store and shop our fresh wreaths ranging from 18″-72", fresh cut greenery, roping and garland, custom arrangements, treats from our holiday food truck, photos with Santa, unique home décor, an extensive selection of ornaments, and much more!
Meet Santa from 1:30pm-4:30pm on Select weekends.
11/27, 12/3, 12/4, 12/10, 12/17, and 12/18
Indulge in our Holiday Food Truck
Enjoy a hot beverage and a pastry from our holiday food truck!
12/3, 12/4, 12/10, 12/11
Highest grade, Premium quality cut fresh from the farm within 2 weeks of delivery to our garden center!
High Needle Retention
Blue-Green Foliage
Traditional Fragrance
Round, Full Shape
Silvery Green Foliage
Highly Fragranced
Dark Green Foliage
Strong Branches
Evenly-Spaced Limbs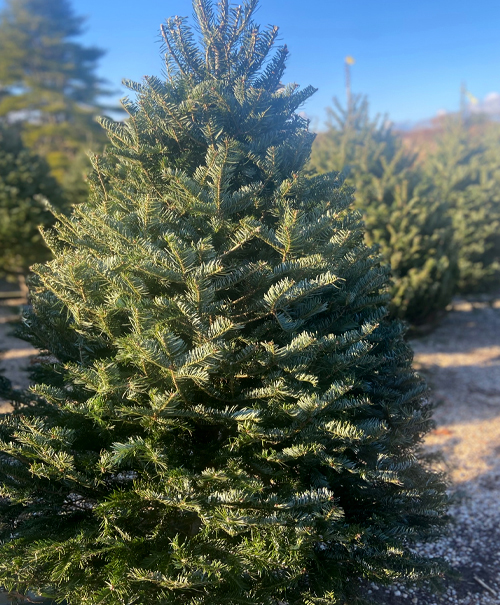 Tree setup is available upon request.
Cost for delivery is dependent on customer's zip code, and the customer must have an appropriate tree stand for the size of the tree. Tree set-up does not include decoration of the tree or removal of the tree at the end of the season. Please call our store for more information.
Are you looking for something unique, custom, or in a specific size?
We offer custom design work for the holiday season. This includes:
Handmade Custom Wreaths  |  Centerpieces  |  Memorial Blankets  |  Fresh Greenery Arrangements  |  Hand-Tied Bows  |  Lifelike Flower Stems, Berries and Greenery

Poinsettias, as well as our other winter blooming indoor plants (such as Cyclamens and Christmas Cactus) make a perfect holiday or hostess gift.
Seasonal Home Furnishings
Life-like Trees, Garland and Wreaths